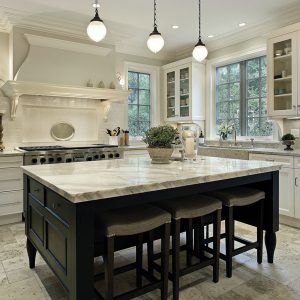 Granite is harder than most common countertop choices like Formica and it stands up well to regular wear and tear. Granite is an exceptionally hard material and it is resistant to scratching. This type of counter top material is heat resistant which makes it perfect for use near a cook top. You won't need to worry about damaging your granite countertops due to heat from pots and pans. Another added perk is granite's resistance to staining. A correctly sealed granite countertop will not absorb liquids or the stains they can cause. Our professionals in will ensure correct installation to make sure you are totally satisfied, and that you can enjoy your granite countertops for many years to come. Give us a call today if you are ready to replace your countertops.
Benefits of Granite Kitchen Countertops
Extemely Hard and Durable
Non-porous
Eco-Friendly Material
Heat Resistant
Stain Resistant
Perfectly Flat Surface
Easy to clean
Available in a variety of colors
Adds value to your kitchen
Get A Free Granite Countertop Installation Quote – 602-661-2557
If you are searching for high quality granite or quartz kitchen countertops, call us today. We can help you decide which counter top replacement material is right for you. We can show you a range of options and we guarantee you will find something that will look amazing in your kitchen.